Wed, February 22nd, 2017 - 1:00 pm - By Gordon Basichis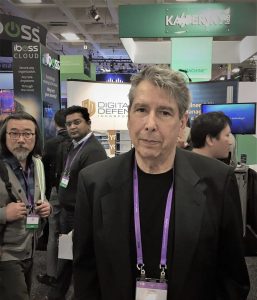 EL SEGUNDO, CA (PRWEB) FEBRUARY 22, 2017
Corra Group attended the recent RSA Cybersecurity Conference, in San Francisco, California. The Conference featured 15 keynote presentations, more than 700 speakers across 500+ sessions and more than 550 companies on the expo floors, all dealing with information security and cybersecurity.
"Corra Group has clients in the information security and cybersecurity space, "said Corra Group Co-Founder, Gordon Basichis. Being headquartered in California, and especially in El Segundo, California, one of the central business centers for defense, aerospace, and advanced technology, it is imperative we stay up on the latest innovations in this expanding industrial space.
"Some of the companies exhibiting at the show are our neighbors here in Southern California," said Basichis. "Some of the entities at the show are iconic entities in the American corporate environment, while others are newcomers to this industry. As a background checking company that provides both employment screening and the due diligence process, we are always looking to engage prospective clients.
Basichis pointed out that Corra Group offers a full spectrum of background checks that are relevant to the technology and defense industries. He noted that Corra Group services companies on a national and global level.
"One of our specialties is helping employers fulfill their compliance mandates with employment screening packages for government contracts. We have a thorough understanding of the background checks an employer requires to qualify for federal and state contracts where the job itself contains sensitive and critical information.
For the complete PR Release please click on this link