Wed, December 21st, 2016 - 10:42 am - By Gordon Basichis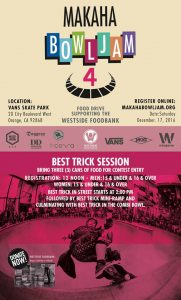 Corra Group was one of the primary sponsors for Makaha Bowl Jam 4, a skateboarding event held at Van's Skatepark, in City of Orange, California. The Makaha Bowl Jam features dozens of competitors in a series of events, including Best Tricks and Big Air competition. Attendees are asked to bring canned food in order to feed the homeless during the Holiday Season.
"We are delighted to be one of the sponsors for Makaha Bowl Jam 4, said Corra Group Co-founder, Gordon Basichis. "As kids, Nick Gustavson and I, the owners of Corra Group, used to surf and skateboard along the beaches and byways of Southern California. This is part of our culture.
"I was friends with Larry Stevenson, the founder of Makaha Skateboards, until his passing," said Basichis. "His son and present owner of Makaha, Curt Stevenson, have been friends for over twenty years. Larry was an innovator and a pioneer in the sport. He was man credited for making the first quality skateboard in the world. His was the first company to use clay wheels, and Larry had the first patent on what was then his world famed kicktail. Sponsoring a Makaha event is like sponsoring a piece of California History."
Basichis pointed out that Corra Group provides employment screening to a variety of sports and entertainment groups, including product and apparel manufacturers who specialize in producing goods for the sports, like surf ware and skate ware.
For the complete release, please click on this link
Wed, December 21st, 2016 - 9:50 am - By Gordon Basichis
Los Angeles is the latest major city to pass a Ban the Box measure (Ordinance 184652) applicable to private employers. It will become effective January 22, 2017 and will be enforced beginning in July 2017. Other major cities with Ban the Box laws include:
And don't forget that eight states have Ban the Box measures on their books which are applicable to private employers — HI, IL, MA, MN, NJ, OR, RI, VT.
What is Ban the Box?  In its most basic form it means that an employer cannot ask on the job application about criminal history (i.e., arrests or convictions).  Generally, an employer must wait until a conditional offer of employment has been extended to inquire about criminal history and conduct a background check.  Ban the Box moves the criminal history inquiry until later in the process to afford ex-offenders the opportunity to be judged on their merit and not their past. At least in theory that's what is supposed to happen as a result of Ban the Box measures, which are often referred to as fair hiring policies.
But, nothing in life is simple. Often, Ban the Box measures go beyond simply requiring employers remove the criminal history question from the job application and they include additional requirements, such as requiring
Tue, December 20th, 2016 - 1:01 pm - By Gordon Basichis
Corra Group attended the recent BioMed Device Show, in San Jose, California. The show is designed to showcases newer trends and innovations that will further the BioMed industry in the coming years. The conference offers training on digital device trends and addresses the obstacles surrounding market entry.
"It was a great show," said Corra Group Co-Founder, Gordon Basichis. There were over three-hundred exhibitors, and the future of MedTech was on display.
"Corra Group was invited to the show, and as a provider of employment screening and due diligence services to the medical, pharmaceutical, and technology industries we wanted to learn as much as we could about the latest offerings in medical technologies. Some of our clients thought it was an excellent idea that we attend, to get a better idea of what they are facing in the future and from our standpoint what we should offer in background checks and healthcare employment screening packages."
For the complete report, please click on this link.